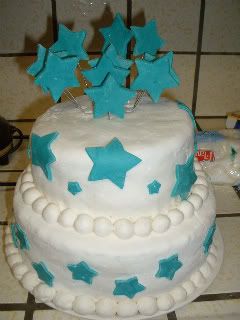 This is the cake I made for Jameson's 1st birthday party yesterday! I learned that working with fondant can be tricky when it's so hot out! It still think it's cute though!
I made the cake for his baby shower last year
. So it was fun to make his 1st b-day cake too.
The party was so cute. I probably would've had a better time if it had not been 103 out. I don't handle the heat all that well! Jameson is an ADORABLE child! His mom, Ashley and I worked together at Citadel Modesto for a while and became friends. She's such a good mom!
I'm so tired today. I have a lot to do, but it's mostly stuff I can do from home, like paying bills and such. I also have to book everything up for Disneyland, and do some gardening. Not too bad. It should leave me some much needed rest. Jasmine is with me this weekend too. She goes home tonight, but I like having her here. She's such a good kid!
I guess I should go tend to my garden. I'd much rather be inside enjoying the air conditioning, but alas, I must do what I need to do.