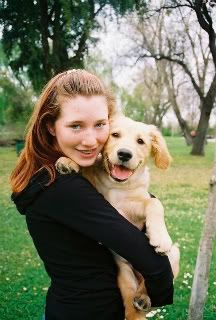 I took this picture of my beautiful niece, Jasmine, holding our sweet Golden Retriever Puppy "Scout" at Lodi Lake!
I'm LOVING Matt's new schedule. It's nice to have some Consistency. Plus he's back to getting 2 days off a week. Something that has not happened in the last few months. We spend his days off outside, usually with Scout. We've been at Lodi lake like 10 times in the last 2 weeks. Our dog loves water and mud. He goes crazy when we're near it, whining until we let him off of his leash. He's amazing for a puppy!
5 days until our mediation with the city of Lodi's attorney. Thanks goodness we are able to settle this out of court. Thank goodness the police department has taken responsibility for the whole situation. More then anything, we are constantly thankful that Matt's injuries weren't any worse, because they easily could have been. I think about that all the time. Police dogs are trained to attack. It could been his face or neck. He could have broken bones during the fall. Not that the bites aren't bad, because they really are, but at least that is all. God had his hand on Matt. I really believe that! As a first Anniversary gift we get to pay off all of his medical bills...yay. lol!
Have I mentioned that I'm going to be in London on my 26th birthday?? Oh yeah, SO excited! Does anyone have any tips for someone terrified of flying?? :-)