So, On Fridays I'm going to dedicate my blog to good food!
As of recently, our lives have been a little more hectic. While I'm working less then usual, it still seem that time escapes me. I normally cook dinner, but I find myself exhausted at the end of most days. So on a recent venture to Trader Joe's (a place I find myself visiting more and more often)looking for some healthy convenience foods, I came across these: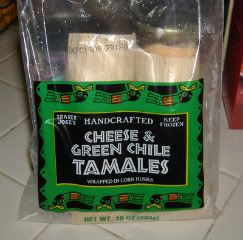 One word: YUM!
I don't eat meat, so these are right up my ally. I love Mexican food! But for my carnivore friends (my husband included) they have Chicken and cheese and beef and cheese as well.
It only takes 5 minutes in the microwave. While I've always wanted to learn to make homemade tamales, these are the next best thing until i have the time (and patience) to learn.
So try them! Even if you eat meat, I'm telling you, the green chili are delish! Matt is eating one as I type. If Matt will eat it, it must taste good!
:-)